I would like to introduce my new friend Eduardo who lives in Brazil. He discovered the Squirrel through the internet and has taken interest in making one.
He downloaded the free instructions and went through the video instructions but the materials required were not available locally.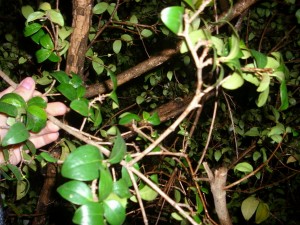 He's quite resourceful and started to experiment with what he had.
Pictured at the left are some fruit trees which are in his neighborhood.
He used twigs from this tree in order to perform a few experiments.
Here are a few shots of his first experiments using the twigs, tissue paper and a propeller from a toy.
As you can see in the videos it is already looking promising. He also experimented with some foam and other materials. Based on the videos I sent him some suggestions. I figured that the wing needed to be moved back to get the balance right. You will notice that the plane noses up and drops at the end of the test. Also, there the propeller causes drag so needs to be wound up a bit for test flying.
He made a "Mini Squirrel" that was even smaller (pictured below).
I didn't get any video of the Mini Squirrel but he sent me more of his experiments which included printed paper gliders and a commercial snap together toy.
I believe he used the material in from the snap together toy to make a Squirrel.After a lot of experimentation Eduardo found better materials and got his first great flights. I was pretty thrilled to recieve the email after he got some good flights!
"Thank you! You do not know how happy I was when I made it fly. All the neighbors out to see the Squirrel."
Eduardo has figured it out and has a Squirrel that is flying well as you can see from the pictures and video collage below.
Brazil is an amazing place that I'd love to visit someday.